About: Candace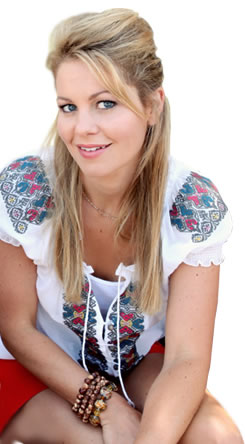 Website

Profile

Candace Cameron Bure is easily one of the best known and most beloved child stars of the 90s from her eight-year stint as DJ Tanner on the incredibly successful series, "Full House." Although Candace may be most recognized as the lovable oldest daughter in the Tanner household, she recently on a more mature role in the film THE HEART OF CHRISTMAS which premiered on GMC network this past December. THE HEART OF CHRISTMAS is inspired by the true story of Dax Locke, a two year old from Washington, IL whose struggle with Leukemia sparked a worldwide outpouring of support for his family and St. Jude Children's Research Hospital. Doctors told Dax's parents that he would not live to see Christmas, which inspired the "Decorate for Dax" campaign where thousands in his community decorated their houses for Christmas in October. Candace stars as a busy, high-powered female executive and mother who reads a blog written by Dax's mother and is inspired to change her priorities and more importantly her relationships with her own children.

In addition, Candace is a New York Times bestselling author. Her book Reshaping It All chronicles her lifelong struggle with food and the physical and spiritual changes that she underwent to make the public transformation from chubby child star to one of the hottest moms in Hollywood. Reshaping It All is a motivational tool to put readers on the right track toward a better physical and spiritual fitness regimen that really lasts.

The actress also stars in the ABC Family hit show "Make It or Break It." As "Make It or Break It" heads into its third season, Candace continues her role as Summer Van Horne, confidant of the ultra competitive gymnast Lauren (Cassie Scerbo). In the series, American households get to follow the incredible lives of a group of talented gymnasts with Olympic aspirations (played by Scerbo, Ayla Kell, Josie Loren, and Chelsea Hobbs). As ABC Family's newest original series, "Make It or Break It" has already gained success as the second most watched show on its channel, gaining 2.1 million viewers in its premiere and gaining positive reviews from critics. In a review in the New York Daily News, it was stated that the "characters are well-drawn," "the drama is set up engagingly" and that it is "a pleasure to watch - a bright spot on the summer TV dial."

Bure realized early that it was her desire to be an actress. Born in 1976 to Robert and Barbara Cameron, Candace grew up watching her older brother Kirk Cameron star in the popular show "Growing Pains." It was from this experience that Candace knew that she wanted to pursue acting. At the age of 5, Candace appeared in several national television commercials and prime-time shows like "St. Elsewhere," and "Who's The Boss." Candace even had the opportunity to take on a small role in her brother's show "Growing Pains."

It was in 1987 however, that Candace took on the most important role of her young life as Donna Jo "D.J." Tanner on the series "Full House." Viewers watched Candace grow up during the show's eight-year run and maintained an unwavering affection for her, even as she grew older. Despite being off the air since 1995, "Full House" still ranks as one of the most successful series of all time.

While much of her success was in television, Candace also gained starring roles in feature films. Joining the long tradition of John Hughes movies, she acted alongside Eric Stoltz and Mary Stuart Masterson in Some Kind of Wonderful in 1987. She then had the opportunity to work with acting greats Tom Hanks and Sally Field in the 1988 comedy, Punchline.

After "Full House" wrapped its last season, Candace met her future husband, professional hockey player Valeri Bure, and began making her own full house. The two were introduced at a hockey game and were married two years later on June 22, 1996. Soon after, Candace decided to take on her most important role to date: the role of mom for her three children, Natasha, Lev, and Maksim. Despite having three children, Candace remains a youthful and "hot" mom by leading a healthy and happy life.

Candace has been involved in several different projects, keeping her acting schedule fun and purposeful. She has appeared on Disney's "That's So Raven" and guest hosted the daytime hit show "The View." She has also starred in the Hallmark Television original movie Moonlight and Mistletoe, which was the #3 all time most viewed movie for the Hallmark Network.

Candace Cameron Bure has developed a deep Christian faith throughout the years and tries to live her life by the ideals of her beliefs. She supports many philanthropic causes, giving support to Skip1.org, Compassion International, Sheraton House and Children's Hunger Fund, as well as being the National Ambassador for National House of Hope. Candace also travels the country speaking at various churches, colleges, and women's conferences sharing her Christian faith.
Posts by Candace: