About: BUSY PHILIPPS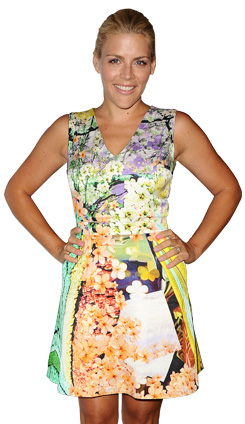 Website

Profile

Busy Philipps struck a chord with critics and audiences early on in her career and has continued to garner attention as a dynamic actress and consistent scene-stealer.

Philipps can currently be seen in the popular comedy Cougar Town where she plays 'Laurie Keller' opposite Courteney Cox. The show will return for a fourth season on TBS on January 8th. The actress also recently wrapped production on the comedy romance, A Case of You, where she stars alongside an all-star ensemble cast including Justin Long, Evan Rachel Wood, Brendan Fraser, Peter Dinklage and Sam Rockwell. The film, which is set to release in the spring of 2013, centers on the world of online dating as a writer embellishes his profile and unexpectedly finds himself trying to live up to his fake persona.

Philipps first garnered attention at the age of 19 in Judd Apatow and Paul Feig's critically praised series, Freaks and Geeks. For her memorable performance as tough but sympathetic rebel teen 'Kim Kelly' in, Philipps crafted one of the most compelling young characters in contemporary television. Following her breakout performance as a budding actress, she has been seen in numerous roles across acclaimed television series' including a 5-episode arc on Terminator: The Sarah Connor Chronicles; a major recurring role as the devout Christian med-student 'Hope Bobeck' on season 14 of ER; a starring role in the UPN sitcom Love, Inc.; and as a regular in Kevin Williamson's award-winning coming-of-age series Dawson's Creek where she starred alongside a notable cast including, James Van Der Beek, Katie Holmes, and Michelle Williams.

Beyond television, Philipps has garnered attention in standout roles across film including the 2011 release of I Just Don't Know How She Does It starring Sarah Jessica Parker; the comedy romance He's Just Not That Into You; and Made of Honor alongside Patrick Dempsey and Michelle Monaghan. Other film credits include, the lead role in the Shawn and Marlon Wayans comedy White Chicks; the high school tragedy, Home Room; as well as the teen drama The Smokers; and Anatomy of a Hate Crime for which she impressed critics and fans.

Philipps was born in Oak Park, Illinois and raised in Scottsdale, Arizona. At the age of 18 she moved to Los Angeles to attend Loyola Marymount University and pursue acting as a career.
Posts by BUSY PHILIPPS: