About: JULIANNE MOORE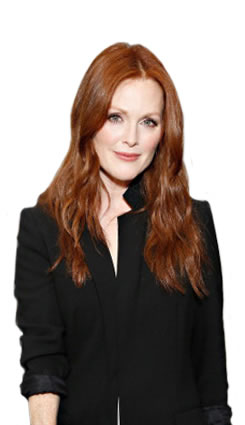 Website

Profile

Julianne Moore has captivated audiences with comedic and dramatic performances both onstage and on the big screen. She's best known for her roles in The Big Lebowski, Boogie Nights, The Hand that Rocks the Cradle, Hannibal and Crazy, Stupid, Love. Her most recent work includes the action-thriller Non-Stop, with Liam Neeson.

Moore earned her B.F.A. from Boston University for the Performing Arts before starring in a number of off-Broadway productions, including Serious Money and Hamlet. She also participated in workshop productions of The Father with Al Pacino and An American Daughter with Meryl Streep. In 2006, Moore made her Broadway debut in the Sam Mendes production of The Vertical Hour.

Her talents have been widely recognized. Moore's a four-time Academy Award nominee, eight-time Golden Globe nominee, six-time SAG Award nominee, four-time BAFTA nominee and a three-time Independent Spirit Award nominee. In 2012, Moore's role as Alaska Governor Sarah Palin in the HBO original movie Game Change earned her a Primetime Emmy award for Outstanding Lead Actress in a Miniseries or a Movie. Her performance also garnered wins at the 2013 SAG Awards and Golden Globe Awards.

In addition to her work as an actress, Moore established herself as a children's author with the 2007 debut of her first book, Freckleface Strawberry, which became a New York Times Best Seller and was even turned into an off-Broadway musical. She's written two follow-up books, including Freckleface Strawberry and the Dodgeball Bully and Freckleface Strawberry: Best Friends Forever.

The series' main character, Freckleface Strawberry, inspired the 2013 creation of Moore's first app, Monster Maker. Her second app, Dreamtime Playtime, encourages math skills.

Moore recently released her fourth book, My Mother is a Foreigner, But Not to Me, based on her experiences growing up with a mother from Scotland.

This fall, Moore will appear as President Alma Coin in the popular franchise, The Hunger Games: Mockingjay. This busy mom and actress has more projects in the works, including the fantasy adventure The Seventh Son, the satire drama Map to the Stars, romantic comedy Maggie's Plan and Freeheld, an independent drama based on a true story.

Moore resides in New York City with her film-director husband, Bart Freundlich and their 11-year-old daughter, Liv and 16-year-old son, Caleb.
Posts by JULIANNE MOORE: