About: KIMBERLY WILLIAMS-PAISLEY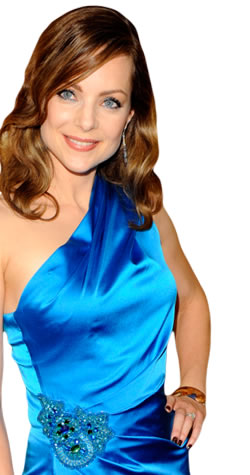 Website

Profile

Most recently seen co-starring in the hit ABC TV sitcom According to Jim, Kimberly Williams-Paisley first lit up the screen as the radiant young bride in the comedy feature film series Father of the Bride and Father of the Bride Part II.
By the time According to Jim finished it's impressive eight-season run, Williams-Paisley had evolved in her role opposite Jim Belushi and Courtney-Thorne Smith, greatly increasing her involvement in the production, ultimately directing three episodes of the show.
This past Summer she starred in Amish Grace the story of the Amish schoolhouse massacre for the Lifetime Network.
Also in feature films, Williams-Paisley starred opposite Tom Cavanagh in Newline Cinema's, How to Eat Fried Worms, the film adaptation of the popular young children's book. She also played Matthew McConaughey's wife in Warner Brothers' We are Marshall, for director McG.
Williams-Paisley wrote and directed the multi award-winning short film, Shade, in which she also starred, opposite Patrick Dempsey. The film finished its festival circuit with a win for the Vision Award for Best Festival Short at the Heatland Film Festival. Her second short, Numero Dos, premieres at the Nashville Film Festival this Spring.
Williams-Paisley also had a starring role in the coming of age comedy Eden Court, opposite Reno 911's Thomas Lennon, released in 2007.
Williams-Paisley made her Broadway debut in the Tony Award-Winning The Last Night of Ballyhoo and has appeared on stage in The Vagina Monologues, in NY and LA, and in All in the Timing at the Geffen Playhouse. She also performed on London's West End in David Mamet's Speed the Plow.
Williams-Paisley's other television credits include the ABC Family Network's Lucky Seven, and the Lifetime Original feature Identity Theft, on both of which she also served as Co-Producer. She co-starred in The Christmas Shoes for The CBS Network, in ABC's Relativity, in the NBC mini series The Tenth Kingdom and in the Hallmark Hall of Fame film, Follow the Stars Home.
In addition to her acting work. Williams-Paisley is an accomplished writer, with published articles for In Style magazine and a year-long column for Redbook
entitled My Life as a New Wife. She and her father Gurney Williams co-authored the children's book, Henry and the Hidden Veggie Garden.
Most Recently Williams-Paisley hosted the critically-acclaimed series
NPT Reports: Children's Health Crisis for Nashville Public Television. The program won a Midsouth Regional Emmy for its excellence in documentaries
in the Community Service Category.
Williams-Paisley is actively involved with the Michael J Fox Foundation for Parkinson's research, St. Jude's Hospital and the XP Foundation and she is a member of the Entertainment Council for Feeding America.
Posts by KIMBERLY WILLIAMS-PAISLEY: