About: Mayim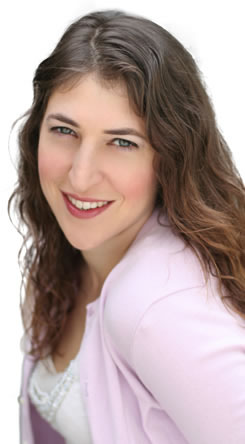 Website

Profile

Mayim Hoya Bialik is best known for her lead role as Blossom Russo in the early-1990s NBC television sitcom "Blossom". Bialik was born in San Diego, California to first generation Jewish American parents, documentary film makers and teachers. She played the young Bette Midler in "Beaches" and also had guest roles on some of television's most beloved shows of the 1980s and 1990s, such as "MacGuyver", "Webster", "Facts of Life", and "Murphy Brown". She also appeared in Woody Allen's "Don't Drink the Water" in 1994, HBO's "Fat Actress", and the HBO comedy series "Curb Your Enthusiasm".
At the end of "Blossom", Bialik earned a BS from UCLA in 2000 in Neuroscience and Hebrew and Jewish Studies, and went on to the Ph.D. program in Neuroscience, also at UCLA. She completed her doctorate in the Fall of 2007, which examined Obsessive-Compulsive Disorder in adolescents with Prader-Willi syndrome. Bialik was a dedicated student leader at UCLA Hillel, leading and starting a Women's Rosh Chodesh group, chanting and blowing shofar for High Holiday services, and conducting and writing music for UCLA's Jewish a cappella group.
Recent appearances include recurring roles on "Secret Life of the American Teenager", FOX's "Till Death", and her critically acclaimed role as Amy Farrah Fowler on the CBS Chuck Lorre hit "The Big Bang Theory". She recently portrayed 1960's activist Nancy Kurshan in "Chicago 8," to be released in 2012.
Bialik is married to a graduate student who she met in calculus at UCLA, gave birth to a son in 2005, and a second son (born at home, largely unassisted) in 2008. Bialik is a board member and co-founder and chair of Jewish Free Loan Association's Genesis branch, and is an avid student of all things Jewish. Bialik is devoted to a lifestyle of attachment parenting, homeschooling, natural family living, vegan cooking, and even makes her own shampoo. In March 2012 Mayim will release her first book on attachment parenting through Simon & Schuster titled "Beyond the Sling". The book guides parents through the world of attachment parenting, Mayim's views on raising her own children in this manner, and includes quotes from Ricki Lake. She currently studies weekly independently and through Partners in Torah. Ms. Bialik keeps a traditional Jewish home, cares for her boys with her husband all on their own, and is thrilled to be working again, as well as writing and speaking for a variety of Jewish organizations around the United States.
Posts by Mayim: